*The age requirement for all rides is 8 years old.
The Caribou-Targhee National Forest boasts rugged mountains, fertile valleys, rivers, varied wildlife, campgrounds, wilderness, adventure, solitude and a magnitude of scenery.
DAY RIDES
The day ride is truly an adventure for those that wish to see the wilderness. No cars, phones, or hurry. Day rides typically average 8 hours and includes lunch.
• 1-2 Riders: $295/person
• 3 Riders: $195/person
• 4+ Riders: $145/person
View the lunch menu HERE.
HALF DAY RIDES
Half day rides are perfect for those who'd like a light ride and a quick time-out to enjoy nature at its finest. Half day rides typically average 4 hours.
1-2 Riders: $255/Person

3 Riders: $155/Person

4+ Riders: 105/person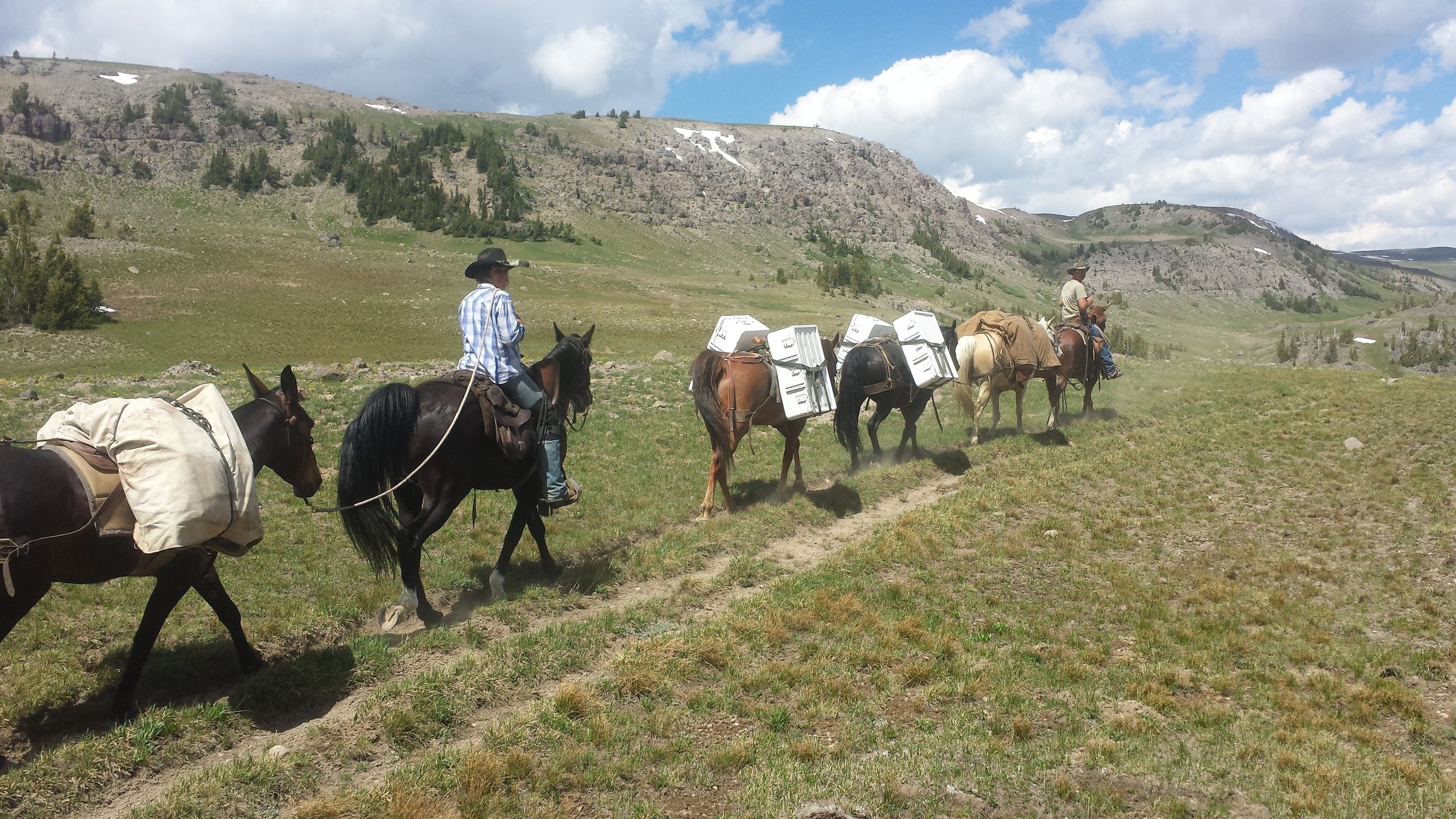 PACK TRIPS
Saddle up the family and enjoy the peace and solitude of the true cowboy way. After loading the essentials on to the pack horses, we ride in to camp, enjoy your dinner, and a relaxing evening by the campfire. We offer 2 -7 night trips. This is an amazing experience you won't soon forget!
• 2-3 Riders: $340/person per day
• 4-5 Riders: $295/person per day
• 6+ Riders: $250/person per day
Camping gear is provided with the exception of sleeping bags. Sleeping bags will be provided upon request for a $20/person per day charge.
DINNER RIDES
Gather the family for a scenic 2 hour ride, then return to a western style chicken and potato dutch oven dinner.
• 4+ Riders: $125/person
Dinner rides can be provided for smaller groups. Please call for pricing.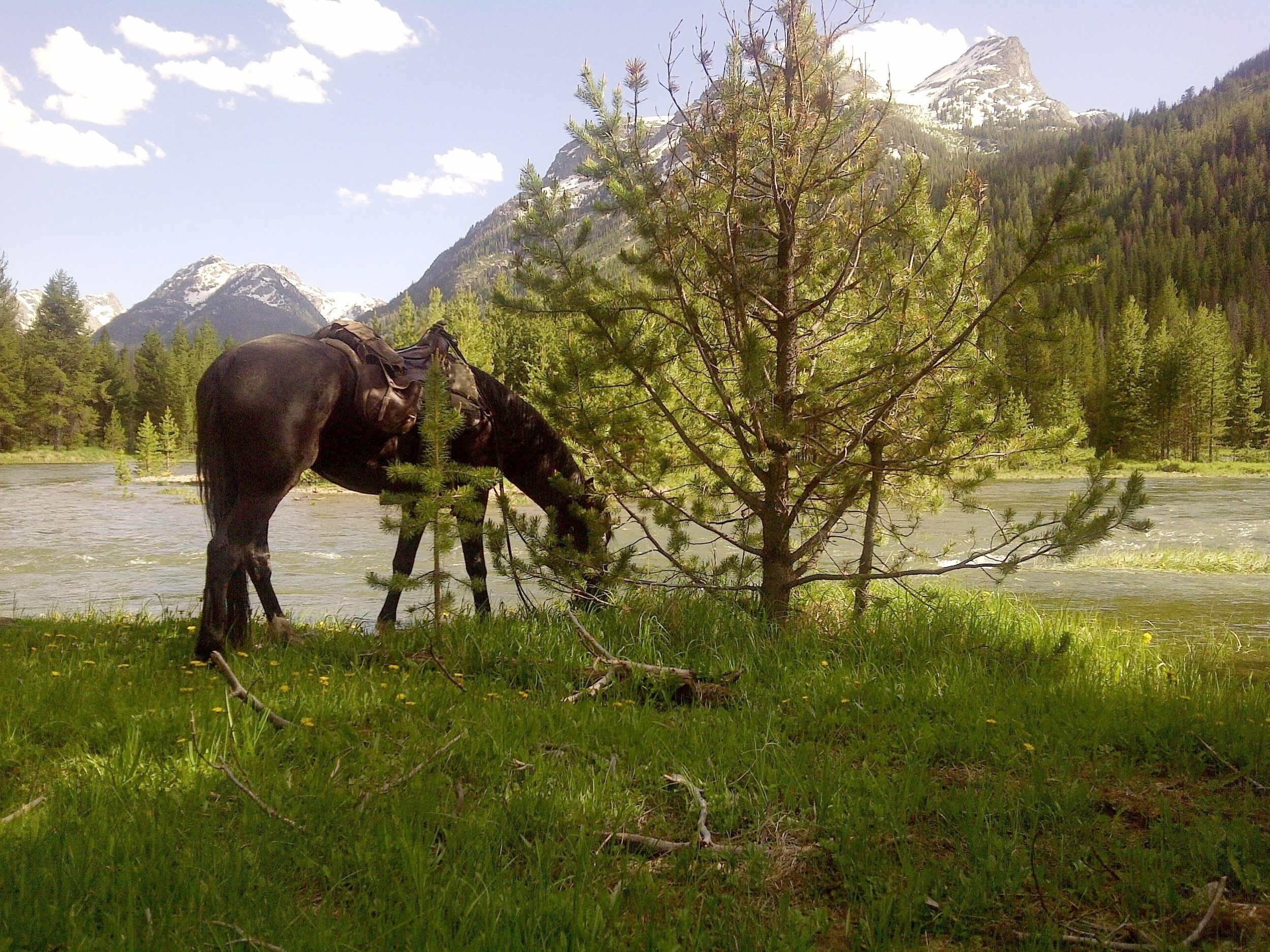 DROP CAMPS
We pack in your equipment while you hike and enjoy the breathtaking Caribou-Targhee National Forest while only carrying the essentials. We do the heavy hauling so your exhilarating hiking experience is absolutely, one of a kind!
One-way pack in or round trip support is at your discretion.
• 1 Wrangler, Up to 4 horses: $475/ each way
• Additional Wrangler: $150/ea
• Additional Pack Horse: $80/ea
(maximum 4 horses per wrangler)
Should you choose to ride in/out, saddle horses can be provided for $100/person each way.
PRIVATE RIDES: additional $50/person
This will guarantee that you/your group will not ride with any other individuals or groups.
WHAT TO WEAR:
- Long pants
- Boots (preferred) or tennis shoes
- Cowboy or baseball hat
- Sunglasses
- Sunscreen
WHAT TO BRING:
- Water
- Small Camera
- Light Jacket or Rain Coat
A 50% non-refundable deposit is required at time of booking. Refunds will only be issued in matters of extenuating circumstances (i.e. medical emergencies, death in the family ect.) However, if cancellation is due to a change in plans we would allow you to reschedule your trip for up to one year from date of original trip date should you wish to do so.
Payments are accepted via PayPal, credit/debit card or cash/check. There will be a 3% fee charged on all electronic payments (PayPal & credit/debit card transactions).
Gratuities are accepted by your guides!